Tech Trek: A Comprehensive Community Partnership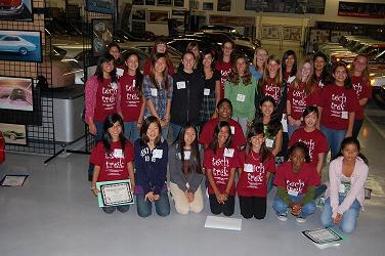 The smiles above are brought to you by some of the Torrance TECH TREK Scholarship winners!
AAUW-CA Tech Trek Science Camp for Girls is a week long math, science, and technology camp held on a university campus in California.  The camp is designed to provide girls entering the eighth (8th) grade with an experience that makes math and science exciting and relevant, while introducing them to an actual on-campus college experience.  The Tech Trek experience is one of the educational components for these young girls that help to develop interest, excitement, and self-confidence in young women.  It features hands-on activities in math, science, technology and related fields, and is intended to encourage young women to pursue studies and careers in the fields of math, science, technology, and engineering fields.
From its inception in 1998, the program has grown to over 700 girls state-wide participating in the eight (8) camps being held on the following seven (7) campuses:  Stanford (two camps), U.C. Santa Barbara, U. C. San Diego, U. C. Irvine, Whittier College, Fresno State U., and Sonoma State University.  The girls sponsored by Torrance Branch attend the four southern California camps.
AAUW Torrance Branch provided three (3) camp scholarships 1999 and awarded 30 camp scholarships in 2018. These girls are selected from sixteen (16) schools including Torrance middle schools, Redondo Beach middle schools, and Los Angeles Unified middle schools, the most schools of any AAUW Branch in the State of California.  The LA Unified schools are located in the cities of:  Gardena, Lomita, Carson, and South Central Los Angeles.  Two (2) girls from each school have been guaranteed scholarships.  Since 1999, the Torrance Branch has sent 528 girls to the Tech Trek camps.
For more information and videos, link to aauw-techtrek.org.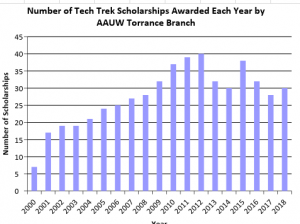 The Branch's Tech Trek sponsorship partners have included:
Alcoa Fastening Systems | Adams Middle School | AFA Schriever Education Foundation  | Arconic Foundation |Athena Paquette Cormier | Ball Corporation | Bear Stearns | Boeing | COMADRONA Communications, Inc. | Continental Development Corporation| The Daily Breeze | Dow Chemicals | Epson Corporation | ExxonMobil Corporation | Farmer's Insurance | American Honda Motor Co., Inc. | Honeywell International | Honeywell Transportation | Kaiser Permanente South Bay Medical Center | W. M. Keck Foundation | Los Angeles Branch AAUW | James S. Copley Foundation | Hyundai Motor America | Maritz Marketing Research Inc. | Medi-Val Drugs | Moog Inc. | Northrop Grumman Space Technology | Parras Middle School | Partners in Diversity | Price Philanthropies Foundation | R.B. Zack & Associates | Raytheon Company | Roadium Open Air Market | Saatchi & Saatchi | Sunrider International | Symantec Corporation | Toyota Motor Sales, USA, Inc. | Time Warner Cable | Watson Land Company | Weinan Family
TechTrek Science Camp for Girls is a program of the AAUW SPECIAL PROJECTS FUND.  The AAUW CA Special Projects Fund is a non-profit 501 (c) (3) organization. EIN # 68-0463071.
For more information on how you can participate in the Tech Trek program, please e-mail us at aauwtorrance@gmail.com